| | |
| --- | --- |
| Posted on November 20, 2015 at 4:20 PM | |
FOR IMMEDIATE RELEASE
Country Stars Central
countrystarscentral@gmail.com
www.CountryStarsCentral.com
COUNTRY MUSIC ICON MERLE HAGGARD COVER PRESENTATION
CHICAGO, IL, November 20th, 2015- It is with great pleasure that we recognize American music icon, singer/songwriter, member of the Country Music Hall of Fame and winner of numerous Academy of Country Music, Country Music Association and Grammy Awards, the one and only Merle Haggard.
CSC presented the outlaw of country music with his official Country Stars Central cover backstage at a recent tour stop in Milwaukee at the beautiful Milwaukee Theater on Saturday October 24th, 2015.
Haggard and longtime friend Willie Nelson were performing to a sold-out crowd in support of their latest critically-acclaimed record, "Django and Jimmie" which claimed the #1 spot on the Billboard Top Country Albums charts in 2015.
Known for mega-hits such as "Mama Tried," "Okie From Muskogee," "The Fightin' Side Of Me," "Sing Me Back Home" and "Workin' Man Blues" just to name a few, the unique style and sound of Merle Haggard has solidified him as one of music's most treasured artists.
Be sure to check out our most recent interview with Merle Haggard here: http://www.countrystarscentral.com/merlehaggardchat.htm
SEE OFFICIAL COVER PRESENTATION PHOTO BELOW (Copyright, Country Stars Central)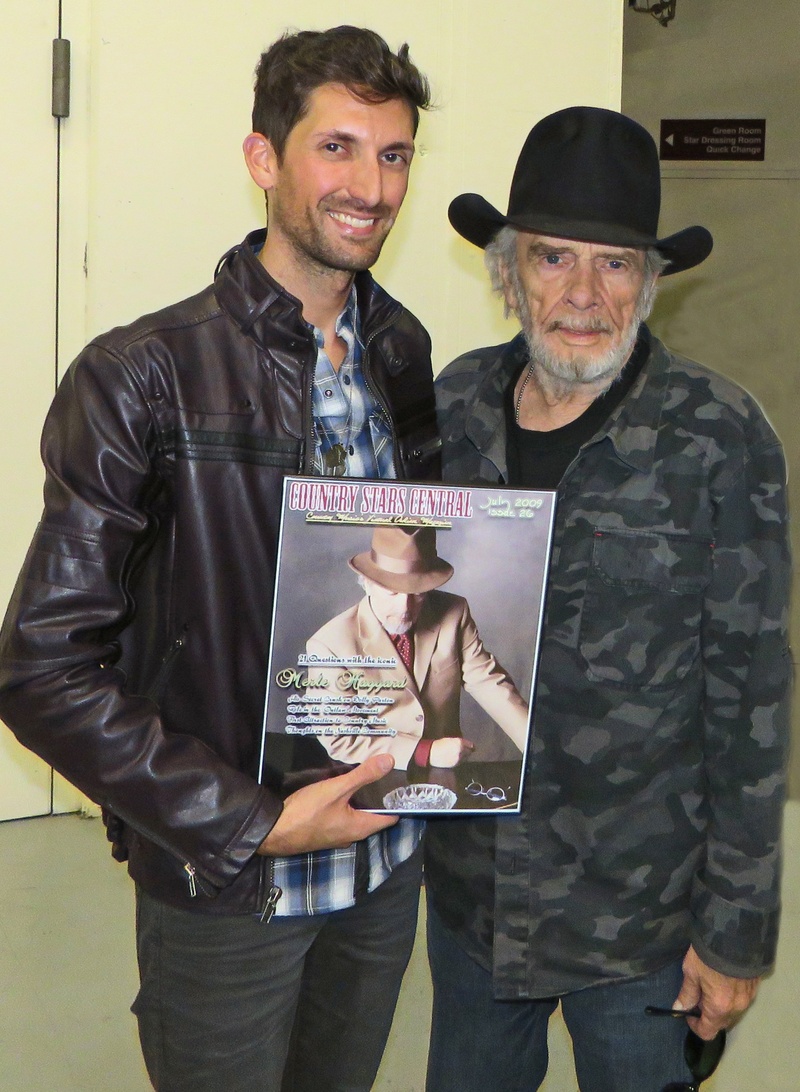 We'd like to thank Mr. Haggard, his publicity director Tresa Redburn and touring staff for their time and generosity.
###